MOB.ID is your
passport to the world
With MOB.ID you handle your identity and privacy information swiftly, digitally and securely. We at MOB.ID share your convictions and principles. We are always there for you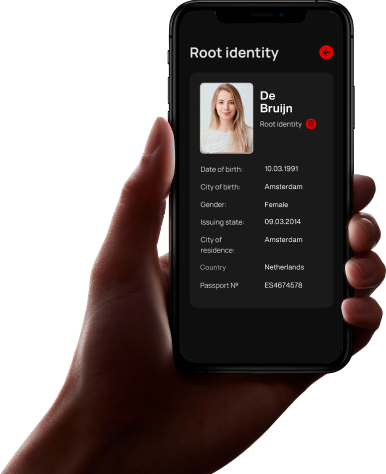 The Passport is the states sovereign responsibility
MOB.ID is the persons sovereign responsibility
MOB.ID Enterprise is the entities sovereign responsibility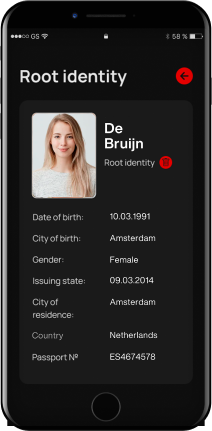 Strong self sovereign
multi purpose mobile identity
With MOB.ID you handle your identity and privacy information swiftly, digitally and securely. We at MOB.ID share your convictions and principles. We are always there for you
When it comes to identities, everybody faces 
problems
How can one be sure of the identity offered? Can the identity offered be trusted belonging to that person/entity? Can the identity provider be trusted? What is happening with my identity information? Can I trust the service provider that he protects my identity information? Is the service provider really who he says he is? These are just a small selection of the questions everybody raises when thinking about identity. We at MOB.ID share your concerns. We address these issues with the first self-sovereign identity solution where the user and the service provider are in full charge of their identities in a secure way.
Scattered: many different digital identities

Loss of trust: little trust in third parties

Siloed: full dependency on third parties

Ownership of PII not with user

Too many cards and identities

Cumbersome administration

No automatic protection of privacy

Low on security

Inefficient and time-sapping
Fraud is enabled by unverified users
Compliance requirements by law or partners to verify users
Assurance, no transparency verification process
Very high compliance fines

KYC processes are very time consuming

Due to complex processes low data quality

Due to long waiting time and paper trail, low turnaround rate

Onboarding of new customers and employees are cumbersome
Strong
trusted identity anchored in the authentication of the passport against the source
Self-Sovereign
identity made strong through attestations and consent and reputation management
Ownership
and control of identity stays with the user. User consents and delegates through trusted rights management
Secure
transparent, auditable transactions, based on the characteristics of immutability & consensus of PKI
Creating 'one version of the truth' in a network of transacting parties, taking away the need to verify and reconcile transactions, records
How MOB.ID works
It is the easiest, safest and most trusted way to authenticate yourself online! Forget complicated user names and passwords – it is easier and safer than checking your online bank account.
Step 01
User downloads
and installs MOB.ID
Step 02
Consent is requested
Step 03
Device ID is registered
Step 04
Unique Identity is generated
Step 06
Passport is verified in Identity EcoSystem
Step 07
Attest is added to Unique Identity
Step 01
User opens MOB.ID using PIN and/or biometry
Step 02
User reads QR barcode
Step 03
App makes contact with Enterprise Identity EcoSystem
Step 04
Enterprise requests consent user
Step 05
The EcoSystem checks credentials user
Step 06
EcoSystem adds Enterprise data to Identity
Step 07
EcoSystem makes and signs Enterprise Identity
Step 08
Enterprise Identity is stored on phone
Step 01
User opens MOB.ID using PIN or biometry
Step 02
User request access using QR code or NFC or other method
Step 03
App makes contact with Enterprise Identity EcoSystem
Step 04
Identity EcoSystem checks authenticity and integrity of identity
Step 05
Identity EcoSystem checks credentials user
Step 06
Identity EcoSystem grants access
So what makes MOB.ID protect your privacy?
We've worked very hard to make sure MOB.ID is easy and convenient. We worked even harder to make sure your private identity information stays private
Privacy by Design
MOB.ID has incorporated Privacy by Design into tech and systems by default right from the start. All privacy data is stored on your phone and you decide who, when and what may be used by whom. You have to consent before it can be used!
Secure authenticated Relationships for your Privacy
The days of guessing if a person is representing an organisation are over. MOB.ID is the new eID card 2.0 for organisations. The enterprise ID is a true derived identity that is unique and verified.
MOB.ID's Trusted Digital Identity Principles
Achievement of Service Delivery Vision: "Citizens and businesses enjoy simple, convenient and secure access to services in a manner they choose and manage"
Mutual confidence
Mutual confidence or trust, in each other's identity management processes.
Choice
Choice in how to use a trusted digital identity. The MOB.ID Framework respects privacy, ensures security, and gives jurisdictions the flexibility to implement solutions that best meet the needs of their respective clients.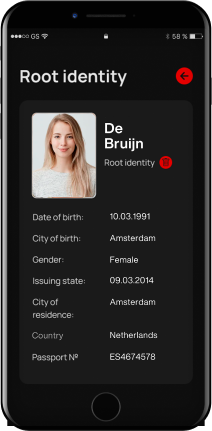 Risk-reduction
Reduction of identity risk by increasing the integrity and consistency
Innovation
Adoption of innovative, competitive solutions that can be relied on beyond the traditional organisational boundaries of departments, agencies, and jurisdictions.