Banks are exploring using artificial intelligence and machine learning to improve the customer experience and detect fraud. In today's digital age, the banking industry faces new and complex challenges related to identity verification and fraud prevention.
In recent years, the way banking software is developed has shifted. We will discuss the top cybersecurity threats to core banking systems and how you can protect your business.
Core Banking Systems Fraud
According to a recent study, over 80% of banks have experienced a successful cyber attack in the past year. Banks must take proactive measures to ensure their core banking systems are adequately protected. This includes implementing robust authentication methods, identity management solutions, and other security controls to ensure the safety of customer data and funds.
Identity Verification and Fraud Prevention
When it comes to identity verification solutions provided by core banking system developers, there are a variety of options available. Some companies offer pre-installed solutions that cover the essential features required for retail banking, which may not be customizable. However, other companies such as Avaloq, Temenos, and Mambu, offer a more comprehensive range of identity verification solutions that can be integrated with a bank's system.
Based on data gathered in various reports (GBG, Federal reserve, Juniper, and Straits) research losses from identity and payment fraud between 2021 and 2025 will amount to $206 billion. We distinguish the following fraud types and outline how Mob.id can help protect your business from them. 
New account fraud
Criminals create new bank accounts with identity data from stolen documents. They can leverage driver's licenses or utility bill data to gain access to the essential details to acquire the default credit plan and make a purchase bypassing security policies.
Synthetic identity fraud
This time a new account is created combining fake and factual information about the person or mixing one person's address data and another person's name. This data blend makes it harder to understand whether the person is real or fake.
Credit Card Fraud
The stolen credit card data is used on a false bank account to arrange payments for goods, bringing trouble to the legitimate card owner and merchants.
Account takeover
Phishing attacks or hacking of the actual account of a user. As a result, arranging illegal purchases from a factual account of a user with a good credit history will go through.
Chargeback fraud
Criminals buy something from a merchant and pay the first installment payment. Then they claim that they haven't received the goods and ask for a refund. Ultimately, a user will have to pay a chargeback and processing fees because of this action.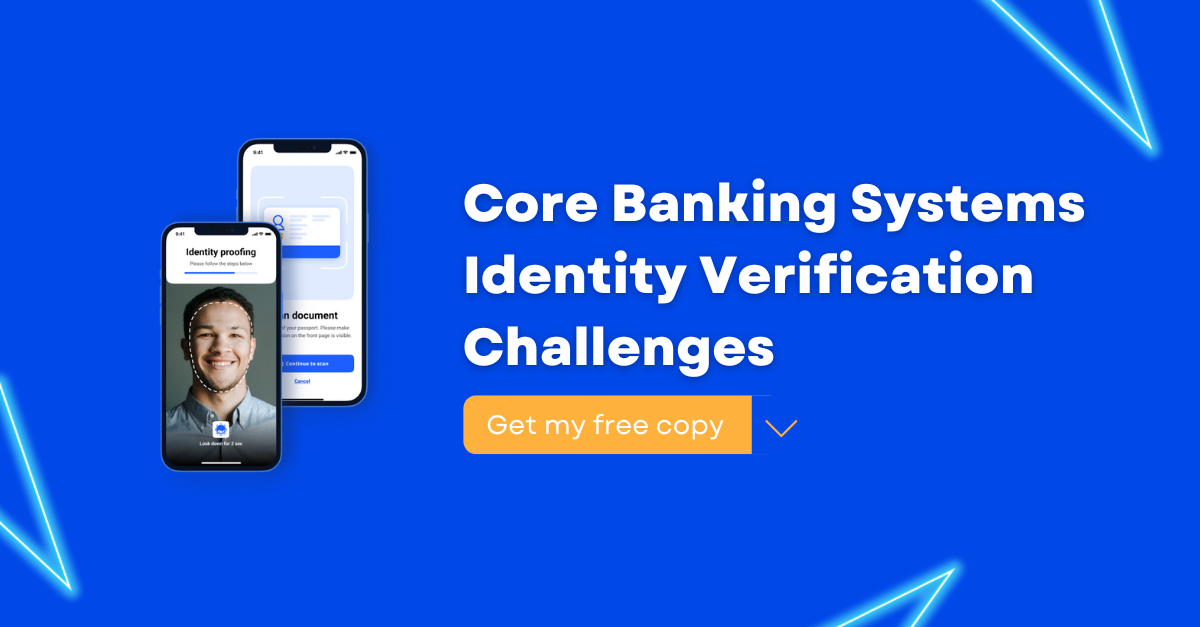 KYC and AML
Every bank requires an appropriate Know Your Customer (KYC) process for their clients, including essential Anti-Money Laundering (AML) policy.
Monolithic solutions, which offer a strict set of features, have proven to be inefficient in improvements. Instead, composable systems, which allow businesses to build their system using various components, are becoming more popular. 
This allows businesses to create a setup tailored to their specific needs, and one such component is Mob.id. When it comes to the approach of performing KYC and AML, there are also various challenges to overcome:
Improve how personal data is stored;

Protect client accounts from fraud identity;

Confidence in the authenticity of existing clients;

Bring the compliant solutions to avoid any personal information exposure;

Provide passwordless and secure access to the app or system;
We have built a solution based on ICAO – International Civil Aviation Organization standards. The organization sets standards and regulations for aviation safety, security, efficiency, regularity, and environmental protection.
When the data is verified, and we assure that this person is present, we complete the verification cycle and allow simple access for any further requests with biometry verification. To make it more convenient and protected, our back-end will generate the appropriate QR code for each user to log in to the platform. Passwordless access removes the necessity of creating, remembering, and storing a password.
Сompliance
In advanced security solutions to protect customer data and prevent fraud. Banks must also comply with increasingly complex regulations, such as the General Data Protection Regulation (GDPR) and Payment Services Directive 3 (PSD3), which significantly impact their core banking systems.
The need for interoperability across various systems and platforms is becoming increasingly important as financial institutions seek to connect with other fintech companies and partners. To keep up with the changing landscape, banks must ensure their core banking systems are up to date with the latest security features and protocols and regularly review their compliance processes.
To stay compliant with government regulations for core banking software, banks must implement the following measures:
Update the systems with the latest security features and protocols.

Regularly review the compliance processes.

Implement advanced security solutions to protect customer data and prevent fraud.

Ensure that customer data is stored in compliance with GDPR and PSD3.

Create a data protection and compliance team.

Invest in decentralized solutions.
Mob.id is built on a decentralized architecture, meaning the personal identity information is stored on a user's device and never left. And there's no need to worry about data protection compliance.
Conclusion
Core banking systems must have top-of-the-line cybersecurity measures to protect their customers' data and financial information. The risks associated with inadequate security can be detrimental to banks, their customers, and the overall economy.