MOB.ID compliance
in your pocket
MOB.ID is not an average identity app. It's a complete full 360 view Mobile and secure Identity EcoSystem. With MOB.ID you can verify if an identity is checked against a legal identity and if it is changed after publication.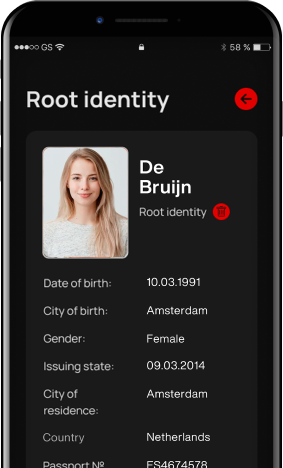 Validate more than

5 billion

legal (e)ID's!
MOB.ID delivers a very powerful next generation "Global Identity" trust platform together with an eco-system of policies, procedures, operating in compliance with the only global standard, de-facto as de-jure for verifying legal" identities of natural persons.
The MOB.ID platform uses source data of all global issued eMRTD's ( Passports and ID cards) to authenticate and verify the integrity of these official issued ID documents in real time. By doing so, MOB.ID raises the identity verification standard globally in order to create a "100% Legally Trusted" environment.
A 100% legally trusted identity is mandatory for every CDD (Customer Due Diligence), KYC (Know Your Customer), CIP (Customer Identification Program) and AML (Anti-Money Laundry) process. Mob.ID – your source for a truly trusted legal identity and supported by a platform that is designed with privacy recommendations in mind!
MOB.ID truly
trusted legal identity
Strong, fast and frictionless
The true cost involved for organizations to reviewing identities and managing the KYC process manually can be significant. And this is just part of the overall KYC process without the cost involved for equipment, licenses, data, e.t.c
Win-win situation
MOB.ID is a win-win situation for the organizations and it's customers. Customers no longer need to mail documents or travel (in extreme cases even taking time off from work) to show up in person for an identity verification.
Higher reliability
eKYC utilities provide better information management, with higher reliability, because information is more comprehensive across all institutions and is cross-validated, which improves accuracy.
Buzz words
Modern collection of buzzwords: Know Your Customer (KYC), Customer OnBoarding (COB), Customer Due Diligence (CDD), Anti Money Laundering (AML) and the General Data Protection Regulation (GDPR). The financial sector was hit with many new or updated regulations in past years, and these new regulations haven't simplified the field. These changes include:
AML
New and updated Anti-Money Laundering Directives 4 & 5 to prevent money laundering in Europe.
GDPR
General Data Protection Regulation (GDPR) for improved handling of personal data.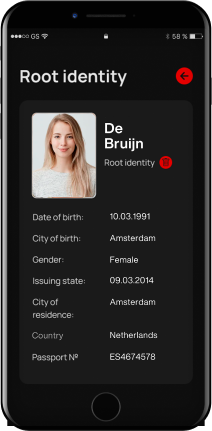 PSD2
Payment Services Directory (PSD2) which includes measures to prevent payment fraud and the misuse of financial tools.
MiFID II
MiFID II for more transparency in the investment business.
Cost savings
An automated KYC process reduces onboarding costs by over 70% and reduces turnaround time by as much as 90% or more. If you perform 100.000 identity verifications per month, you can save over € 1.000.000 per month on your KYC checks, and that is even without the other cost savings and benefits. According to the International Finance Corporation, the widespread use of KYC automation could deliver three major gains in addition to saving costs:
Better CDD information leads to less corruption, tax evasion, money laundering, and other criminal activities.
KYC utilities process information more consistently, and at a lower cost.
KYC utilities provide better information management with higher reliability.